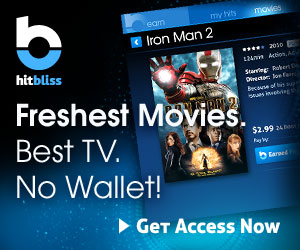 The media is saying this could be the next Netflix!
HitBliss is a new online service that lets users stream hundreds of hit movies & thousands of tv shows.
What makes them really unique from others is that HitBliss consists of two parts: HitBliss Earn and HitBliss Store.
In the HitBliss Earn area users can engage with brands (i.e. watch videos & other brands messages) and earn real cash in their account (in exchange for their time/attention to the brand messages). Users can then move over to the HitBliss Store environment and use their earned cash to stream movies & full tv episodes (commercial free).
It takes about 5 minutes of watching commercials to earn enough in your account for FREE Premium TV shows and movies!
This is a WONDERFUL way to get lots of streaming movies and shows without paying a dime!  Movies are available to rent and stream as soon as soon as their DVD release date, and TV episodes are available to purchase the day after they air. The big difference, though, is that HitBliss allows you to earn the money instead of using a credit card!
Don't miss this!
Be sure to check out the latest freebies and printable coupons as they are updated each day. And if your shopping online we now have a Online Coupons Code page that has any coupon code you need
Have you joined the Sea of Savers on Facebook? Join over 18,200 others, make friends and share deals you find!